Guest speaker – State Treasurer Stacy Garrity
Stacy Garrity is the 78th Treasurer of the Commonwealth of Pennsylvania, being sworn into office on January 19, 2021. She is a businesswoman and retired U.S. Army Reserve Colonel.
A graduate of Sayre High School in Bradford County, she earned a degree in finance and economics from Bloomsburg University of Pennsylvania and later received a certificate from the Cornell University Business Management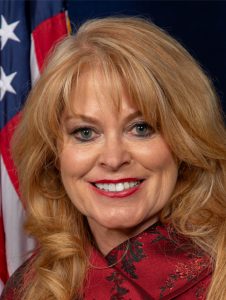 Institute.
While serving as a colonel in the Army Reserve, she was highlighted for her stellar performance as one of the officers in charge of an internment camp for enemy combatants in Iraq.
Stacy served three overseas deployments: in 1991 in Operation Desert Storm, in 2003 in Operation Iraqi Freedom, and in 2008 in Operation Enduring Freedom. She was awarded the Bronze Star twice for exceptional service and received the Legion of Merit before retiring from the Army Reserve with the rank of colonel.
While serving in the Army Reserve, she started work as a cost accountant at Global Tungsten & Powders Corp., a global supplier of refractory powders, and worked her way up to become the first of two female vice presidents at the company.
As Pennsylvania Treasurer, Stacy oversees an office of more than 300 employees and is tasked with protecting more than $115 billion in state assets. Among her many duties, she serves as a fiscal watchdog for the state, manages Pennsylvania's 529 College and Career Savings Program and the PA ABLE Savings Program for disability-related expenses, and administers the state's unclaimed property program.