Harrisburg Hilton at noon

State Senator Katie Muth
(D-Montgomery, Chester, Berks)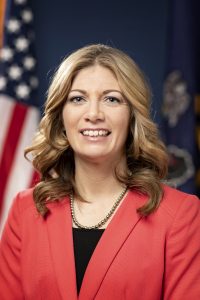 Senator Katie Muth was elected in November 2018 to the state Senate's 44th District, representing Montgomery, Chester and Berks Counties.
Born and raised in western Pennsylvania, Senator Muth was educated at Penn State where she earned a bachelor's degree in Athletic Trainers, and obtained her master's degree at A.T. Still University of Health Sciences in Mesa, Arizona.
While completing her master's thesis, she promoted health care for student athletes and studied concussion-related injuries at high schools in the Phoenix area. Senator Muth most recently served as an adjunct professor of kinesiology at a local university, while also practicing sports medicine.
Senator Muth got her start in politics as a volunteer in political campaigns before moving on to form and chair Indivisible Mid Montco.
With a proven record of activism, Senator Muth is focused on helping those struggling to find affordable health care, ensuring equal pay for equal work, promoting a livable wage and paid family medical leave. In addition, the senator is focused on aiding students who are overburdened by heavy student loans.
Senator Muth's father Scott worked for 44 years in the industrial machine industry. Her mother, Jennifer, was a nutritionist. Both grandfathers were World War II veterans.
Senator Muth and her husband, Trevor, reside in Royersford, Montgomery County.