Guest Speaker
Sen. Sharif Street
Chair, PA Democratic Party
Senator Sharif Street, elected to the Pennsylvania Senate in 2016, represents the Third Senatorial District of Philadelphia.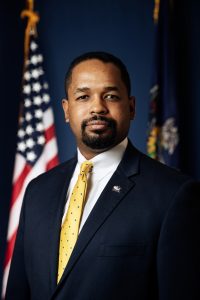 An attorney by profession, he began his public career as a community activist, organizing a Town Watch group while in law school. He graduated cum laude from Morehouse College with a B.A. in Business Administration with a concentration in Finance and the University of Pennsylvania Carey School of Law, where he served as president of the Penn Law Democrats.
Before being elected Senator, he worked as a staffer for the Pennsylvania Senate, serving as the Chief Legislative Advisor to the Democratic Chair of the Housing and Urban Development Committee and had the primary responsibility for overseeing legislative, housing, environmental and economic development initiatives.
Sen. Street currently serves as the Democratic Chair of the Senate Banking and Insurance Committee and the Senate State Government Committee.
In 2022, he made history when he was elected the first Black chairperson of the Pennsylvania Democratic Party during Juneteenth weekend.
Sen. Street is a father of five children and lives in North Philadelphia with his wife, April.