Guest Speaker
Leigh Chapman
Pennsylvania's Acting Secretary of State
Leigh M. Chapman was appointed Acting Secretary of the Commonwealth in January 2022. In this role, Chapman leads the Pennsylvania Department of State.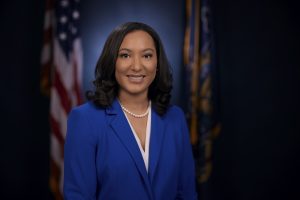 The mission of the Department is to promote the integrity of the electoral process, to support economic development through corporate filings and transactions, to protect the health and safety of the public through professional licensure, to maintain registration and financial information for thousands of charities, and to sanction professional boxing, kick-boxing, wrestling, and mixed martial arts events in the commonwealth. The department upholds the highest standards of ethics and competence in the areas of elections, campaign finance, notarization, professional and occupational licensure, and charitable solicitation.
Previously, Chapman served as executive director of Deliver My Vote. She also held senior leadership positions at the Leadership Conference on Civil and Human Rights and other non-partisan, non-profit election reform and advocacy organizations. From 2015 to 2017, Chapman served as policy director at the Department of State, advancing key agenda items including the implementation of electronic voter registration.
Chapman earned a bachelor's degree in American studies and history from the University of Virginia and a law degree from the Howard University School of Law.