Harrisburg Hilton at noon
Teresa Miller
Secretary of Human Services
Prior to her appointment as secretary of the Pennsylvania Department of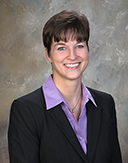 Human Services, Miller served as Pennsylvania's insurance commissioner, where she worked on a range of issues, including the administration's top priorities – fighting the heroin and opioid epidemic and helping seniors.
In 2017, Secretary Miller was named chair of the National Association of Insurance Commissioners Senior Issues Task Force. At the NAIC, she has been a leader in taking on the current challenges of the long term care insurance markets.
Prior to coming to Pennsylvania, Miller served as acting director of the State Exchanges Group, the Oversight Group, and the Insurance Programs Group in the federal government's Centers for Medicare and Medicaid Services.
Before going to Washington, she worked in Oregon where she fought for state adoption of mental health parity legislation, representing drug and alcohol treatment providers, social workers, the Arc of Oregon and other advocates for people with disabilities. Then, as the insurance regulator in Oregon, she worked to ensure consumers received the benefits of that law.
Secretary Miller received her J.D. from Willamette University College of Law, and her B.A., magna cum laude, from Pacific Lutheran University.