Harrisburg Hilton at noon
Brandon Flood
Board of Pardons Secretary
Prior to his appointment as Secretary of the Pennsylvania Board of Pardons, Brandon Flood spent nearly a decade working for the Pennsylvania House of Representatives, where he served in a multitude of professional capacities, which include positions with the House Democratic Caucus' Legislative Policy & Research Office and Pennsylvania Legislative Black Caucus.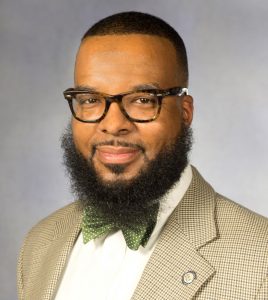 Following his tenure with the House, Brandon went on to serve as Legislative Director for the Service Employees International Union State Council.
Immediately preceding his appointment as Secretary, Brandon served as Policy & Reporting Specialist for the Pennsylvania Department of General Services' Bureau of Diversity, Inclusion and Small Business Opportunities.
In addition, from 2015 through February of 2019, Brandon served as Chairman of the Pennsylvania NAACP's Political Action Committee and in 2016 was appointed by the National NAACP to serve as its Civic Engagement Coordinator for Pennsylvania, where he played a contributory role in registering over 1 million new voters across the commonwealth.
Brandon currently resides in Steelton, Pennsylvania, where he also serves as Chairman of the Greater Harrisburg NAACP's Legal Redress Committee and is a sitting member of the Steelton Borough Zoning Hearing Board.
_______________________________________________________________
Tickets are $30 per person or $300 for reserved table of 10.  Payment is required in advance and can be made payable to the PA Press Club by check or Visa or MasterCard.  If you would like to attend, please RSVP to info@papressclub.org by April 25.