Guest Speaker
Berwood Yost
Director of the Franklin & Marshall College Poll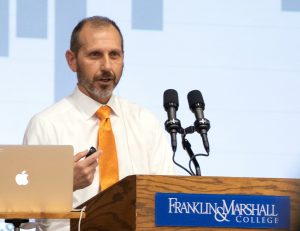 Berwood Yost is the Director of the Center for Opinion Research and the Director of the Floyd Institute for Public Policy at Franklin & Marshall College. He is also the Director of the Franklin & Marshall College Poll, which tracks public attitudes toward public policy issues and political campaigns. His scholarship is multidisciplinary and has appeared in journals that include the fields of criminology, human rights, political science, psychology, and public health.
Mr. Yost frequently writes about the results and implications of political campaigns in the state and has closely followed changes within the state's electorate. His recent work has attempted to identify ideological and partisan patterns among the state's voters and his forthcoming book, a co-edited volume from Temple University Press, "Are All Politics Nationalized? Evidence from the 2020 Pennsylvania Campaigns," explores how political campaigns communicate with voters about the issues that are most important to them.
Mr. Yost also began publishing a newsletter about state politics in February of 2021 and regularly writes about state politics, polling, and public policy for a general audience.