Guest Speaker
Sen. Kim Ward
PA Senate Majority Leader
Senator Kim Ward currently serves as the Senate Majority Leader for the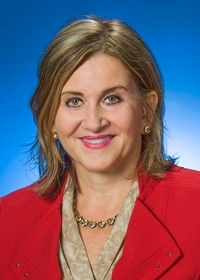 Senate of Pennsylvania. She is the first woman in the history of the Pennsylvania Legislature to serve as Majority Leader in either the Pennsylvania House or Senate.
In 2008, Senator Ward won the Pennsylvania 39th Senatorial District seat and was the first woman ever elected to that seat. She was re-elected in 2012 & 2016, and most recently in 2020.
During the 2019-2020 legislative session, she was appointed to the Majority Caucus Administrator position in the Senate. Prior to her election to the Senate, she served as a Westmoreland County Commissioner in 2008, and on the Hempfield Township Board of Supervisors from 2002-2007 where she was Chairwoman of the Board for the final three years.
Most recently, Senator Ward has had several of bills she introduced to address the COVID-19 pandemic pass the General Assembly. Signed into law was her legislation requiring the Pennsylvania Department of Health to share the location of COVID-19 positive cases with emergency responders so they can better protect themselves and their communities. Senator Ward's amendment to the Pennsylvania Constitution, prohibiting the Governor from extending an emergency declaration beyond 21 days without legislative approval, received the first of two legislative approvals needed before it can be placed on the ballot at the next election.
She is a member of Our Lady of Grace Catholic Church in Hempfield Township, the Italian Sons and Daughters of America and the NRA.