Guest Speaker
Rep. Seth Grove  (R-York)
Seth Grove has represented the 196th District in York County since 2008.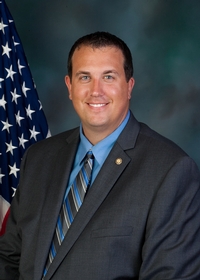 He earned his B.A. in Public Administration from York College in 2002. He then attended Graduate Work in Political Management at George Washington University. His professional experience includes working as a legislative assistant for both State Representative Todd Platts and State Representative Stan Saylor and as Chief of Staff for State Representative Keith Gillespie
During his time in the State House, Rep. Grove has served on 13 of the 26 standing committees. In addition to his legislative duties, he has served as an APPRISE counselor for the York County Area Agency on Aging. He is a member of the HACC York Campus Advisory Committee, Dover Lions Club, the Dover Fish and Game Association, Life Member of the National Rifle Association, and the Dover/York YMCA.
He resides in Dover with his wife, Dr. Kacey Grove, and their children, Andrew, Connor, and Raegan.