Guest Speaker
Sen. Ryan Aument
Republican Caucus Chair
A lifelong resident of Lancaster County, Sen. Aument received his bachelor's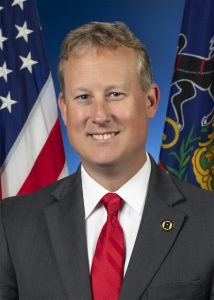 degree in Education from The Citadel in Charleston, South Carolina. He served as a U.S. Army captain in Operation Iraqi Freedom, briefly commanding an infantry company of 150 soldiers after the company commander was wounded in combat. Throughout his military service, he earned the Bronze Star Medal, the Army Commendation Medal, the Army Achievement Medal, and the Army Parachutist Badge.
Sen. Aument spent three years as a production supervisor at ICI Paints in Reading, while also winning a seat on the Quarryville Borough Council. He later managed the state House campaign of a high school friend, Bryan Cutler. After Cutler won office, he hired Aument as a key aide.
Aument then won office as Lancaster County Clerk of Courts and went on to win two terms in the State House and later, two terms in the State Senate, where he served as chair of the Senate Education Committee and the Senate Communications and Technology Committee.
Along with representing the constituents of the 36th State Senatorial District, Aument also formed and chairs the first ever Nuclear Energy Caucus in a state legislature in the nation and serves as Majority Caucus Secretary for the Senate Republican Caucus.
During his tenure, Aument helped to establish the Office of State Inspecror General, an office tasked with preventing, detecting, and eradicating fraud in Pennsylvania government. Aument also introduced legislation, signed into law by Gov. Wolf, promoting stronger restrictions and penalties for the misue of SNAP benefits, protecting dollars meant to feed hungry Pennsylvanians.
Aument lives in West Hempfield, Lancaster County, with his wife, Kate, a teacher at Mt. Calvary Christian School, and their two children, Jack and June.